At the beginning of 2017, in honor of Tele Vue's 40th year, we asked you to tag your social media images taken with or taken of Tele Vue equipment with the hashtag #televue40. You did so and there are too many images to highlight them all, but we'll bring you a few at a time through these blog posts.
People are rightfully proud of the heirloom quality build and performance of our scopes. This post looks at the various images of Tele Vue scopes posted on social media feeds this year.
---
A recent favorite of ours was this painting of a Tele Vue TV-85 by Instagram user @h.chiharandy.
---
Lars Kristian Hansen Evjenth isn't put-off by the cold as he observes with his 4″ Tele Vue scope without gloves on!
---
You'll come across photos of Brian Ventrudo's Tele Vue TV-85 on his Cosmic Pursuits Facebook page.


An aspiring solar scientist (below) employs a filtered Tele Vue TV-NP101is at the "Hopservatory" (Instagram @hopservatory) in Bend, OR.
The scope is also used at night (see young lunar-scientist below). The long eye-relief of the 17mm Nagler eyepiece makes it easy for anyone — young, old, glasses — to take in the wide-field view.
---
Jeff Husted's Tele Vue TV-NP127is setup in the Panamint Valley just outside of Death Valley National Park.
---
Tele Vue TV-85 is appropriately juxtaposed with the Omega Speedmaster. It was a Speedmaster that was worn for America's first "space walk" and "moon walk". Tele Vue's very existence is based on technology developed by our CEO and founder Al Nagler for the space program.
---
The Great American Eclipse dominated astronomical news this year. Below is Tele Vue President David Nagler with his Tele Vue TV-60 eclipse setup.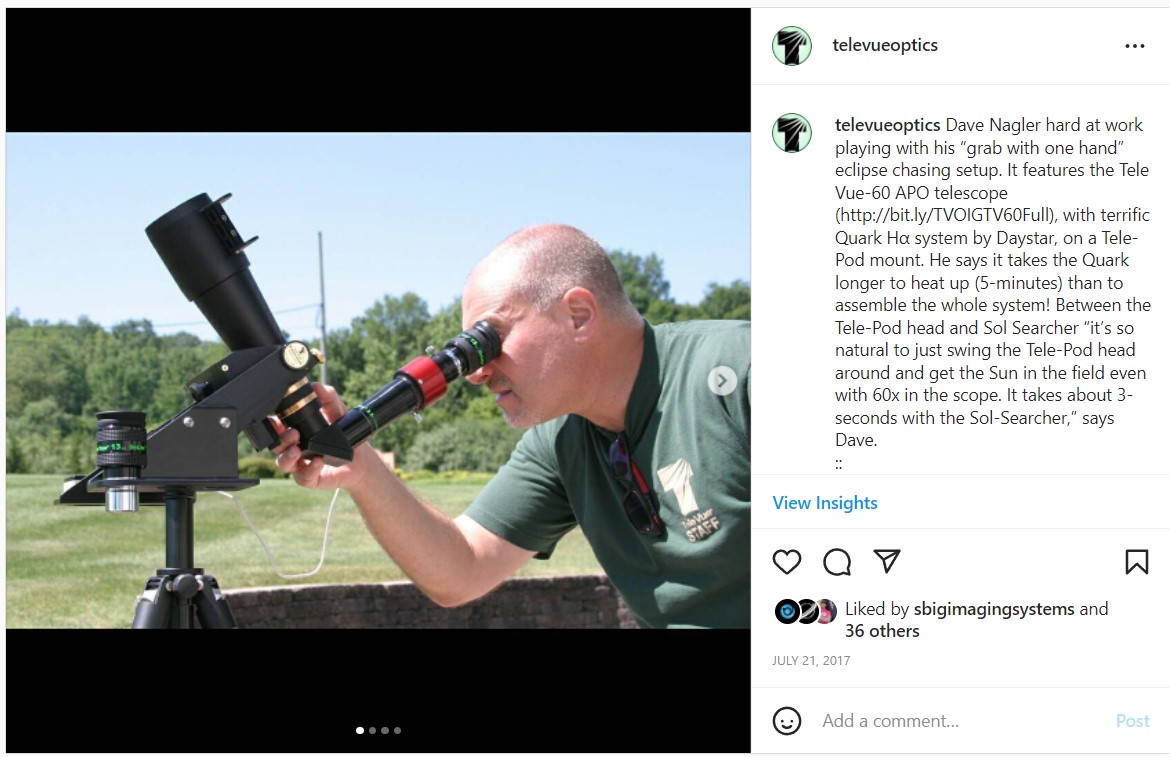 ---
Jim Stephens was in Madras, OR for the event and photographed it with his Tele Vue TV-140 (700mm, f/5.0) using a Canon EOS 40D set to ISO 100.
---
Did you observe, sketch, or image with Tele Vue gear? We'll like your social media post on that if you tag it #televue and the gear used. Example:
televue #tv85 #ethos #jupiter

Do you want your Tele Vue images re-posted on Tele Vue Optics' Social Media accounts? Use this hashtag for consideration:
#RPTVO
More Info