Current solar activity has imagers busy posting their prized Hydrogen-α images to social media. Naturally, there's a lot of Tele Vue gear in use and here we present a collection of such images.
Sun in Hydrogen-α (21 February 2022)
John Johnston has been imaging the Sun since May 2020. His current set up features a Lunt LS50THa/B600 (fl: 300mm) solar scope extended to 875mm using the Tele Vue 2.5x Powermate amplifier.
His Hydrogen-α portrait below, of a dramatic solar prominence on the limb, caught our eye. The prominence is joined by sunspots, dark filaments, and fibrils on the face of the Sun.
John images from Silver Spring, Maryland, United States.
Space Weather Prediction Center
The National Oceanic and Atmospheric Administration's Space Weather Prediction Center continues to show rising solar activity that is ahead of the predicted curve for the current solar cycle. A dashboard on their site, for space weather enthusiasts, allows the public to monitor current and predict future space weather. The above Sunspot Number Progression chart shows that January of this year had sunspot counts a year ahead of what was expected in an increasing cycle.
The Sunspot Number is not a simple count of the number of sunspots on the Sun. It speaks to the number of sunspot groups and individual spots. It is derived by first collecting sunspot group and individual sunspot counts from various solar observation stations. Because resolution and observing conditions vary with each station, a scaling factor modifies the counts at each location. The group count is multiplied by 10 and added to the individual count. Therefore, on days when a station sees no visible sunspot, their "Sunspot Number" is zero. On days where the count shows a single sunspot, the group count is one and the Sunspot Number is 11.
Spaceweather.com suggests that amateur astronomers can estimate the number of sunspots visible in a small scope by dividing the daily Sunspot Number by 15.
Solar Full Disc Image (8 March 2022)
Vineet Bewtra images the sun from London, UK. The imaging setup includes a flip-mirror diagonal. Close-up imaging is done at prime focus through a Tele Vue-76 scope with Tele Vue 2.5x Powermate. A flip of the diagonal mirror feeds the image to another camera for full-disc imaging on the Sun.
In the following full-disc image (made with the Tele Vue-76) we see sunspots with plages and fibrils while solar prominences dance along the limbs of the Sun.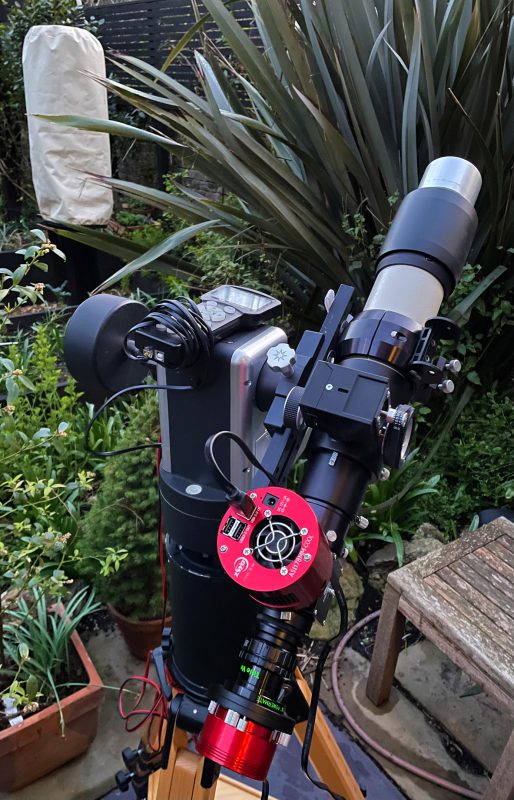 Solar Features Visible in Hydrogen-alpha
Active Region is an area with a localized strong magnetic field that gives rise to visible features such as sunspots, plages, solar flares, etc.
Sunspots are cooler regions that appear as dark blotches on the Sun's surface. These can also be seen in visible light.
Plage (from the French word for "beach") is a white regions around sunspots or where sunspots are about to appear.
Prominence is a looping plasma flow from sunspot to sunspot on the limb of the Sun. These are also visible during total solar eclipses.
Filaments are dark ribbons on the face of the Sun. They are really just prominences away from the solar limb.
Fibrils are magnetically-confined super-heated plasma jets reaching 2,000 to 6,000 miles (3,000-10,000 km) high.
Solar Prominence (inverted image – 12 March 2022)
Imaging from Carlsbad, CA, Michael Caligiuri captured this dramatic photo, with the help of our Tele Vue 2.5x Powermate, of a solar prominence erupting on the northeast limb of the sun on 12 March 2022. Surface features include the dark sunspots of Active Region 2965, filaments, and roiling Fibrils.
Meet the Tele Vue Line of Powermate Amplifiers
Tele Vue's Powermate line has some distinct advantages over simpler Barlows for visual and imaging. Powermate™ photo / visual amplifiers increase the focal length of your scope with reduced aberrations, greater magnification potential, and compact size compared to typical Barlow lenses. Also, Powermates™ can be stacked with no adverse impact. Powermates are available in different barrel sizes and powers to meet your mission needs: 1¼" (2.5x & 5x) and 2″ (2x, & 4x) formats.
Imaging with Powermates is easy: the visual tops all unscrew to accept a specific Tele Vue Powermate T-Ring Adapter for use with standard camera T-rings.
Did you observe, sketch, or image with Tele Vue gear? We'll like your social media post on that if you tag it #televue and the gear used. Example:
televue #tv85 #powermate #sun

Do you want your Tele Vue images re-posted on Tele Vue Optics' Social Media accounts? Use this hashtag for consideration:
#RPTVO