Images: The Great Conjunction!
The Jupiter and Saturn "Great Conjunction" was well-publicized and well-imaged. Even though the closest approach between the planets was Monday, they're still in the vicinity and worth a look tonight! This gallery contains some of the best images of the event we found on-line, acquired with Tele Vue products.
Tele Vue Powermates proved essential for amplifying telescope focal length to image details on the planets using a camera at prime focus. 
Due to the 2.6 magnitude brightness difference between the planets, some imagers created composites with different exposures for each planet. This was also done to bring out the planetary moons without overexposing the parent body.
Tele Vue's Mahendra wondered "if they are looking back at us" as he was working to create the following image.
An easy way to capture a memory of this event is to put a smartphone up to an eyepiece and take an image. This afocal or "digiscoping" technique relies on the eyepiece to magnify the view and the camera on the phone replaces your eye to take the image. Our Tele Vue FoneMate firmly connects most Tele Vue eyepieces to your phone in order to employ this technique.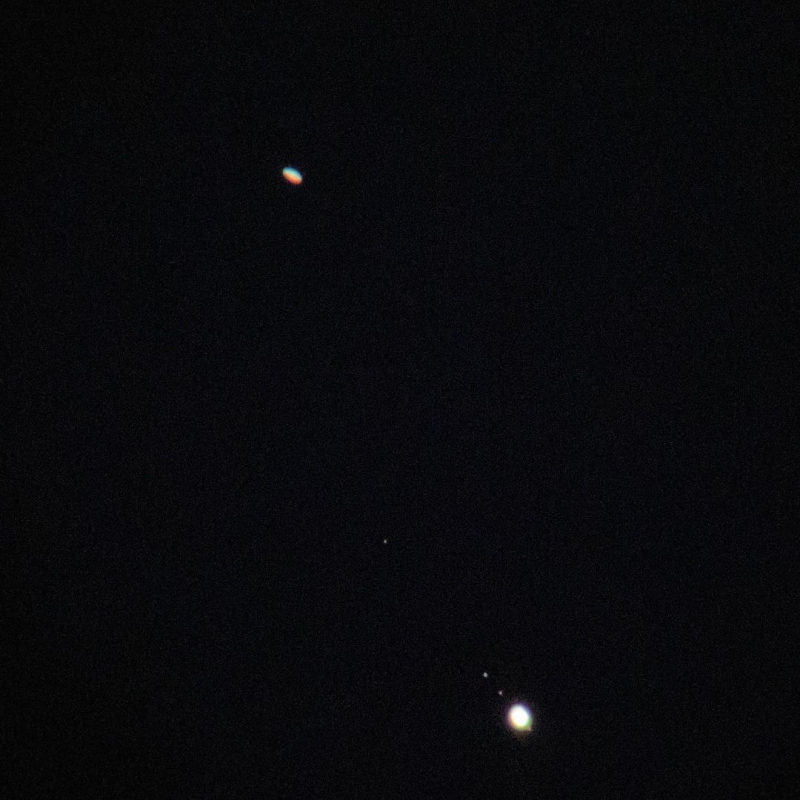 Tele Vue's Parking Lot "Star Party"
Tele Vue's staff in New York wasn't daunted by the recent snowfall and set up in the parking lot on Friday, December 18, to observe and image the planets. 
The forecast in our area for the days leading up to and after the event was for clouds. So our impromptu parking lot "star party" was the best chance to see the planetary pair. 
Guests and family members joined us to view the planets. It was easy to find an eyepiece that framed Jupiter and Saturn together as they were about a third-degree apart. Hovering low in the evening sky, contending with atmospheric turbulence and dispersion, the 6mm Ethos provided the best view of the planetary systems at 110x.  Providing a 1.2° true field of view gave observers time to enjoy the view and wait for moments of steady seeing.  Visible were Jupiter's moons, belts, and the rings of Saturn and its moon Titan.  David Nagler commented, "this is as dramatic a telescopic view as my first total solar eclipse and observing the comet Shoemaker-Levy 9 impact sites on Jupiter."  Strangely, mostly ignored was the beautiful 4-day-old crescent Moon above the planets!
Luckily there is still a bit of undeveloped land behind our building so the scopes didn't have to contend with parking lot lights in the vicinity of our target.
Tele Vue's Jon said he always "made it a point to see 'once-in-a-lifetime' events" like this.  The "star party" was all over in an hour but the memory will last for a lifetime.  
Did you observe, sketch, or image with Tele Vue gear? We'll like your social media post on that if you tag it #televue and the gear used. Example:
#televue #tv85 #ethos #jupiter
Do you want your Tele Vue images re-posted on Tele Vue Optics' Social Media accounts? Use this hashtag for consideration:
#RPTVO